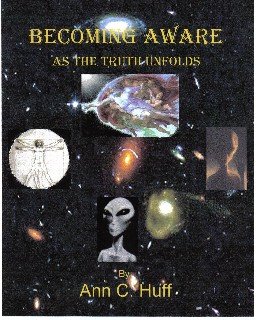 Becoming Aware as the Truth Unfolds
By Ann C. Huff
For Christian readers having difficulty reconciling the existence of aliens with their religion, Ann Huff's book is the one to read to see how she adapted.
As a youngster, Ms. Huff grew up with strange visitors at her bedside which she did not question, but let it become part of her world.
Religion and aliens are something many abductees struggle with and Ms. Huff's book will help other readers make the transition from accepting aliens into their world, without disrupting their religious beliefs.
Ms. Huff chronicles her adaptation to alien visitors and their influence on her life.
Ms. Huff captures the sentiment shared by people who face the realization there is a greater reality of which we were previously unaware.
The book comes highly recommended for readers struggling with the religious versus extraterrestrial concept.
This spiral bound, softcover book is 120 pages and contains sketches of various alien encounters and other phenomena which readers will find interesting.
AAER readers highly recommend this book.
Review by Marilyn Ruben, Alien Abduction Experience and Research.
TO ORDER YOUR COPY, SEND A CHECK OR MONEY ORDER FOR $11.95 PLUS $3.95 (S&H) ($7.95 S&H FOR ORDERS OUTSIDE THE US) TO:
Ann Huff
51 Hurd # 214
Milan, MI 48160-1399
BOOKS ARE NORMALLY SHIPPED WITHIN 48 HOURS.
OR ORDER ONLINE AT http://www.abduct.com/books/b75.php